ISR is open for Eats! Despite pandemic related delays and concerns, construction still safely progressed over the summer on the University of Illinois Urbana-Champaign's (U of I) newest state-of-the-art dining facility "Illinois Street Residential Dining (ISR)". Boasting nine standalone Micro-Restaurants™, a Tea Bar and Retail Market, ISR delivers a culinary experience unlike any other at U of I. The restaurants were carefully designed as separate entities, each with its own unique character and freshly made, authentic menu choices.
As students continue to return this fall, ISR has taken a "cautious" opening approach to the debut of its newest dining facility. Pandemic operational restrictions include: limited capacity, set menu offerings at each platform (to-go only) with dining/seating opening up later in the year pending the current pandemic situation.  A Grand Opening celebration has been postponed to spring 2021.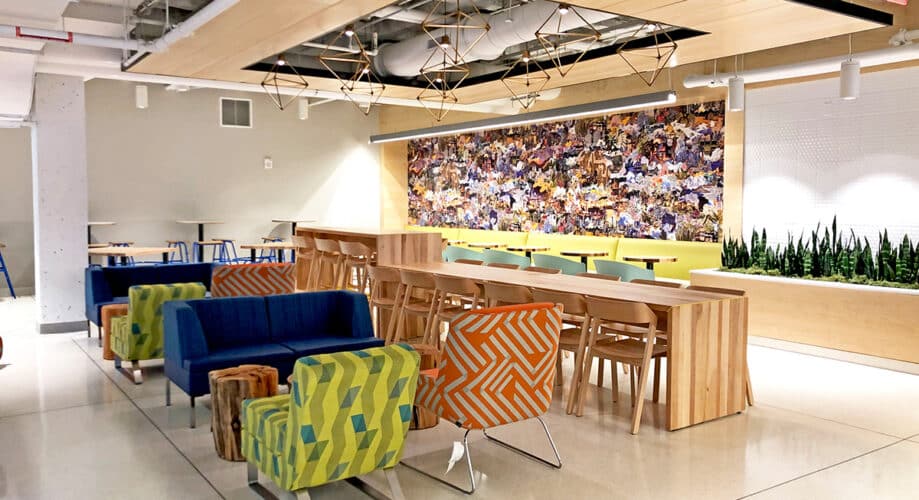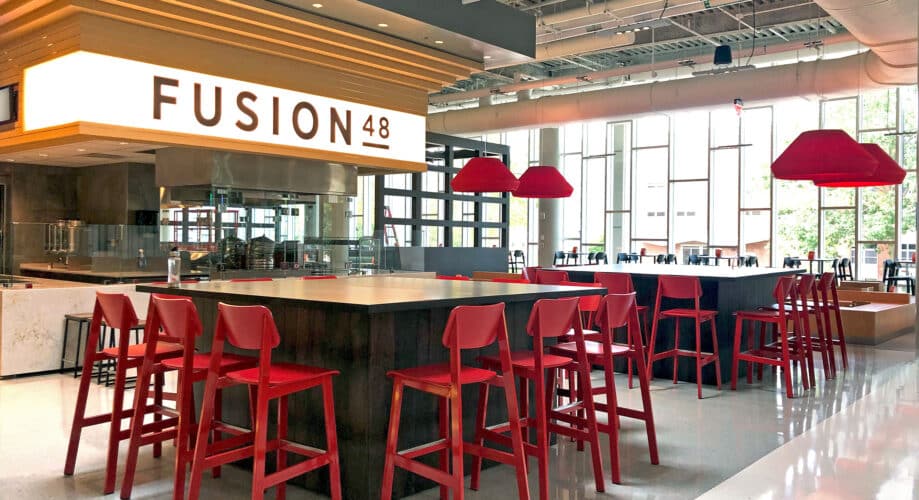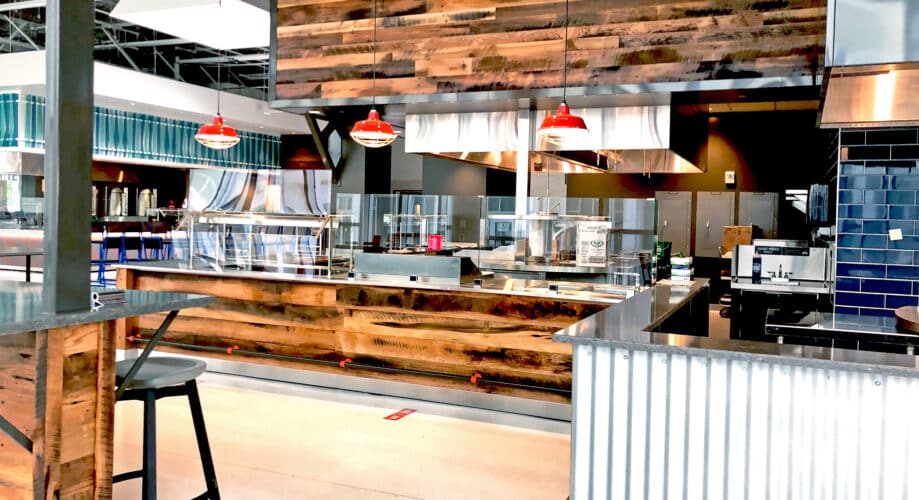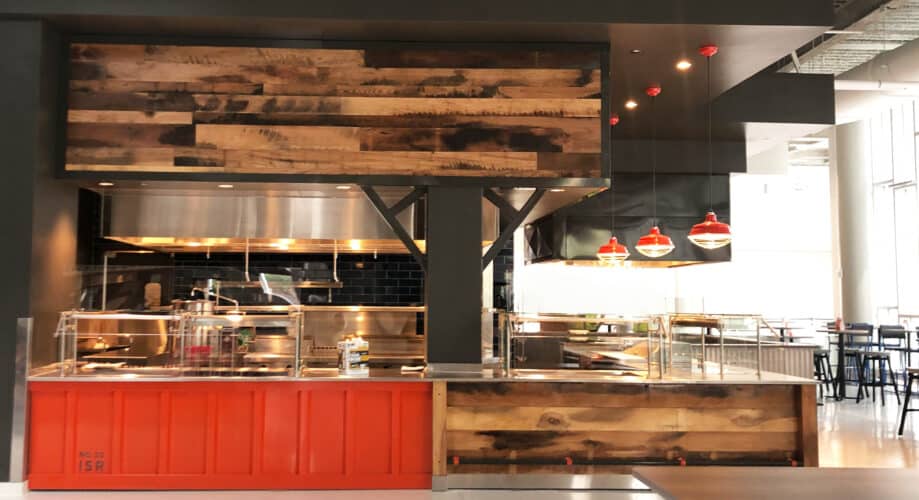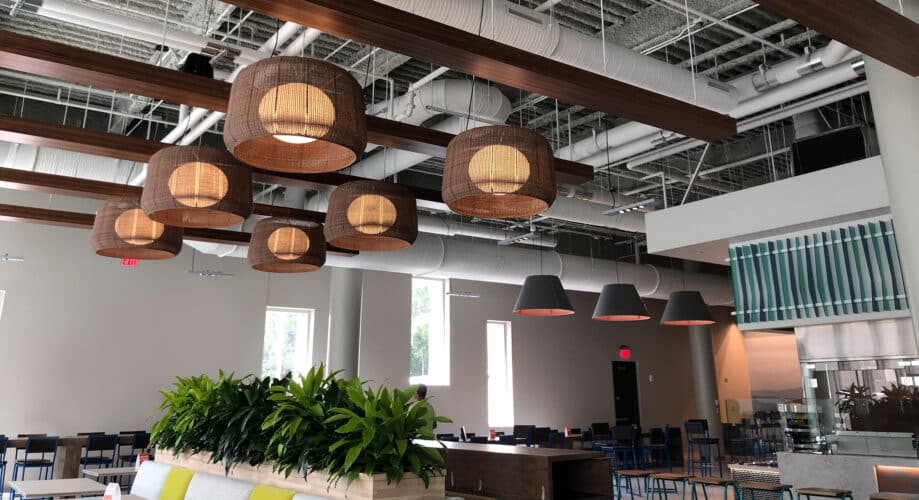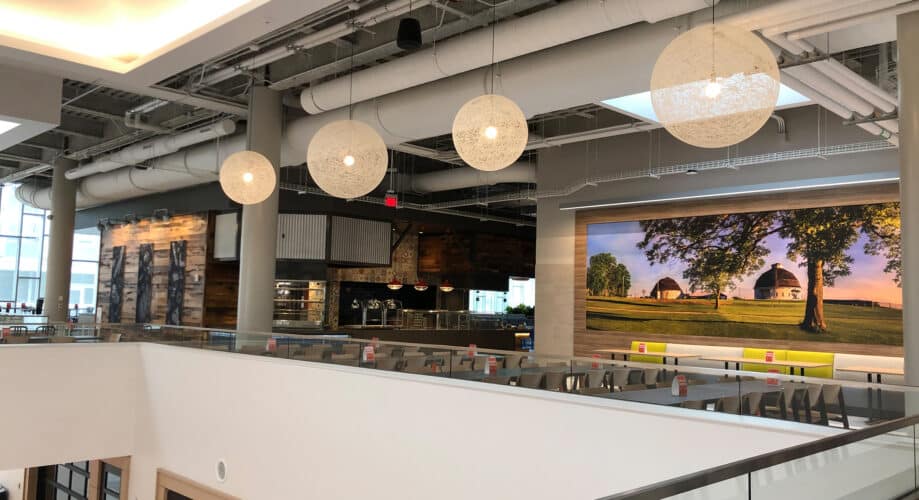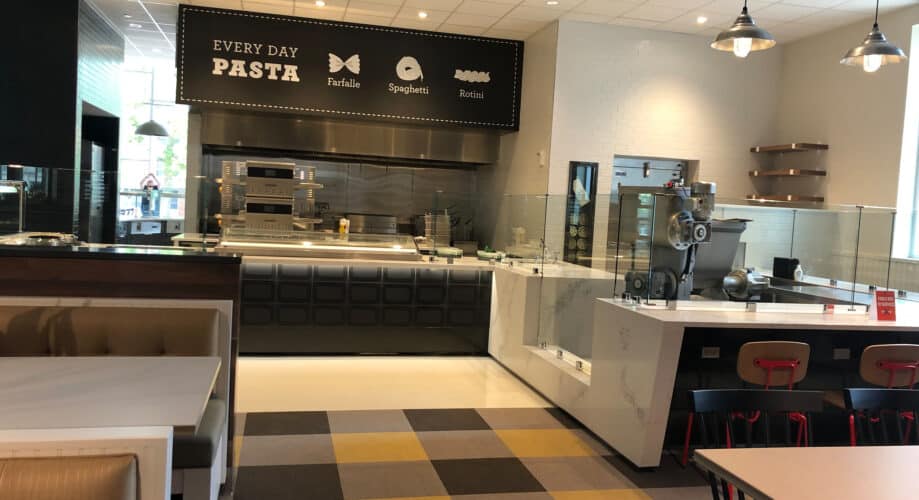 Infinitea: Tea Bar
Menu: Tea, smoothies, coffee
Design: Modern eclectic; warm natural woods w/ bright pops of color and bold graphics
Terrabyte: Retail Café & Market
Retail Café: Hot grilled items to go; pizzas, sandwiches, hot meals
Market Menu: Vast offering of packaged food items along with a wide assortment of beverages
Design: Natural, organic, fresh market vibe
Saporito: Pizza/Pasta
Menu: Fresh pastas made from scratch – demonstration-style, pizza making/prep and cooking with an emphasis on "scratch" cooking; features two large hearth pizza ovens
Design: Nods from authentic Italian cuisine, old-world quality with a modern approach. Large scale patterns, clean subway tile, period-style furnishings with views highlighting the warmth and fire from the hearth pizza ovens
Fusion 48: Asian
Menu: Dim sum, noodle and fried rice bowls, steamed buns, sir fry, pho and east Indian cuisine
Design: Authentic Asian character, bamboo woods, red accents, graphics incorporating Asian heritage and traditional symbolism
Grillworks: Comfort & Grill
Menu: Traditional American fare; burgers, pot pies, fried/grilled chicken, fries, casseroles, smoked meats
Design: Rustic woods, nostalgic patterned tiles, colorful seating pops, mixed textures and graphic art used to symbolize UI's long-standing connection to the agriculture and farming industry
Café a La Crumb: Dessert & Coffee
Menu: Ice cream, toppings bar, market-style display of fruits and cheeses, fresh baked desserts, warm cookies and cobblers along with hot coffee and tea to pair with a sweet treat
Design: "Outdoor Café;" stone tops, varied black and white tile patterns, medium wood tones, neon signage and oversized wall art
Grains & Greens: Salad, Deli & Soups
Menu: Crisp salads and wraps, fresh deli sandwiches, rotating soup selections
Design: Light and airy, "outdoor patio", focal patterns and bright pops of green
Table 1867: Demonstration
Menu: Demo/teaching kitchen designed to accommodate product & recipe testing
Design: Spotlight on showcasing food preparation/training; simple finishes and clean lines; comfortable seating; dynamic lighting that creates darker and lighter zones to emphasize the front counter hood line as a showpiece
Rise & Dine: Continental Breakfast
Menu: Limitless cereal options, yogurt, fresh fruit, make-your-own waffles, toast station, complete with toppings and spreads
Design: Warm, comforting, all-day venue that reminds you of home, family traditions and bright sunny days; residential kitchen style casework mixed with open shelving and a standalone "kitchen island" to bring a feeling of nostalgia and starting your morning in the comfort of your own home
Latitude: International/Mediterranean/Latin
Menu: Rotating menu to include foods from Turkey, Mediterranean, Armenia, Africa, et cetera
Design: Unique blend of multicultural flavors and textures, vibrant colors used to accentuate the menu pairings from across the globe, oversized lighting and mixed seating styles for both large and small groups
Inclusive Solutions: Allergen Conscious
Menu: Selections for those with a special diet including students with food allergies
Design: "Uncomplicated-neutral palette", transparency and countertop seating so that guests can watch their food being prepared and served from start to finish – invoking "peace of mind" before indulging.