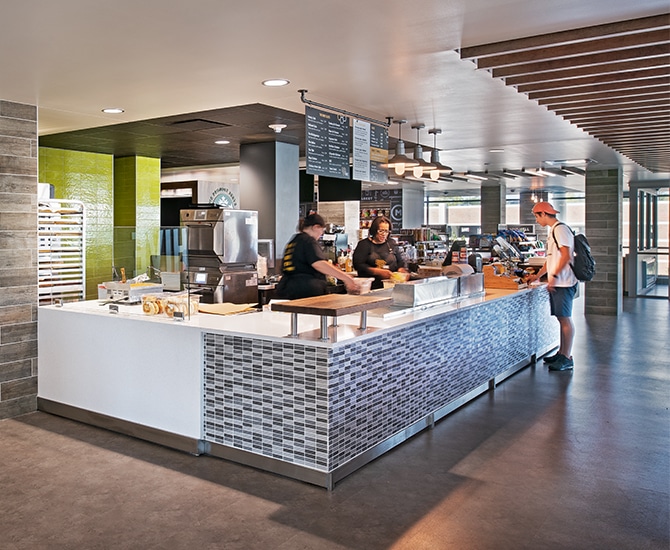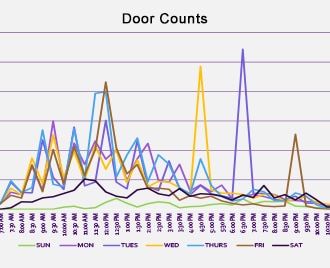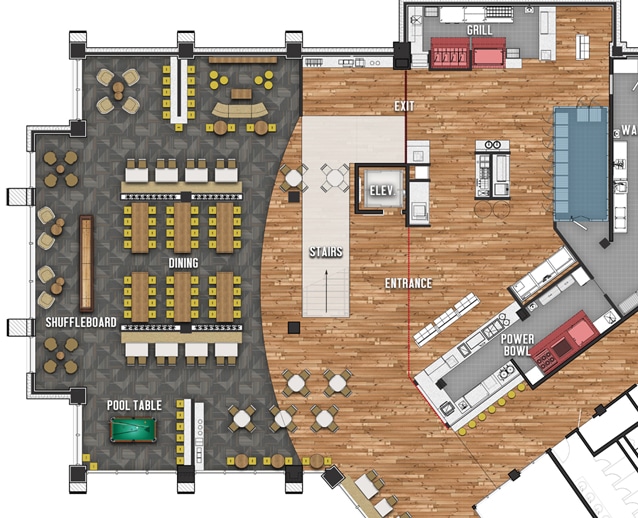 Master Planning
Research, Analysis, Recommendations
Bakergroup's Master Planning support is a multi-step process involving research, analysis, and recommendations. However, the most important step we take is getting to know YOU: your campus, your students, your operations, your challenges, and your goals. This ensures that our process and our solutions are tailored specifically to your needs – because one size does not fit all. To help you better plan for the future of your organization's dining, our support offers insight on:
Opportunities for increasing customer satisfaction and sales
The optimal number and locations of foodservice operations
Which concepts to offer in your portfolio of operations
Estimated future sales and expenses for your dining operation(s)
Meal plan options
Pricing
Operational Assessments
Strategic and Marketing Planning
Other Master Planning elements that are important to your specific needs.
Benchmarking
How Do Your Operations Compare?
Benchmarking provides a picture of how well-aligned your operations are with the industry, with peer institutions, and with themselves over a defined period of time. Benchmarks highlight areas to investigate further; reveal if improvement initiatives are successful; and encourage proactive changes in scheduling, pricing, and cost controls. It will help you to:
Compare your institution to peer institutions
Establish appropriate food costs
Match pricing with market rates
Compare staffing levels
Determine appropriate rates of return
Determine appropriate rent / commission rate
Operations Reviews
How Do You Measure Success?
Operations Reviews & Analyses help determine if your operation is as successful as perceived – or desired. Whether you are setting the standard, or working toward achieving a targeted benchmark, Bakergroup's strong Operations portfolio of services will help you accomplish your goals
Increase customer satisfaction
Improve financial performance
Increase throughput and speed of service
Improve staff training
Identify alternative / additional revenue sources
Improve overall efficiency
Programming
Facility / Hours of Operation / Event Driven Needs
Dining Characteristics / Adjacencies / Accessibility
Bakergroup's programming covers all areas related to foodservice and dining, including dock, dry storage, refrigeration, and other support areas. Based on your individual project, we will make recommendations on the number, type, and adjacencies of all spaces. We will suggest menu concepts, service formats, and hours of operation, and other related dining considerations specific to your project needs and goals. Early space planning and programming contribute greatly to a successful design project.
Bakergroup also considers other elements in its programming process. The following list is a small example of those elements:
Sustainable design considerations
Security
Vending
Non-dining use of spaces
Pedestrian traffic paths
Fire protection
Phasing & temporary dining needs
Maintenance & training
Feasibility Studies
Don't Guess!
Bakergroup's Feasibility Planning will help answer all of your strategic planning questions. Our work will provide you with the following information regarding feasibility of your project:
Market Analysis
Approach
Timeline
Estimated Cost
Potential Challenges
Anticipated Profitability
Market Research
Focus Groups / Surveys / Visual Preference Workshops
Bakergroup employs these methods and others, as needed. Market Research can be provided as an independent service, but it is also a regular component of all of our Planning & Analysis work. It supports the analysis of:
Customer Satisfaction
Service
Price Point
Menu Mix
Location & Site
Retail Market
Competitive Market
Bakergroup took our 60s-era cafeteria and knocked it out of the park with their redesign! It instantly went from a place no one wanted to be to a place where everyone now wants to be! Hats off to the entire Bakergroup staff!

-Mark O'Connell, Kellogg Community College
2015-01-28T22:42:16+00:00
Bakergroup took our 60s-era cafeteria and knocked it out of the park with their redesign! It instantly went from a place no one wanted to be to a place where everyone now wants to be! Hats off to the entire Bakergroup staff! -Mark O'Connell, Kellogg Community College
https://bakergroup.com/testimonials/mark-oconnell-kellogg-community-college/
The professionalism, expertise, and responsiveness of Bakergroup has proven foundational in transforming Western Michigan University's Dining Services into contemporary and efficient facilities. The entire WMU community is excited about the new dining opportunities on campus.
-Judy Gipper, R.D. Western Michigan University
2016-12-28T19:34:41+00:00
The professionalism, expertise, and responsiveness of Bakergroup has proven foundational in transforming Western Michigan University's Dining Services into contemporary and efficient facilities. The entire WMU community is excited about the new dining opportunities on campus. -Judy Gipper, R.D. Western Michigan University
https://bakergroup.com/testimonials/judy-gipper-quote/
Our dish room needed to be replaced. We sought the help of Bakergroup, who we worked closely with to design a state-of-the-art facility. We have more than doubled our capacity…increased staff efficiency….and significantly reduced our energy use. This project turned out just as we had hoped.

-Bob VanHeukelom, Hope College
2014-11-28T20:13:16+00:00
Our dish room needed to be replaced. We sought the help of Bakergroup, who we worked closely with to design a state-of-the-art facility. We have more than doubled our capacity…increased staff efficiency….and significantly reduced our energy use. This project turned out just as we had hoped. -Bob VanHeukelom, Hope College
https://bakergroup.com/testimonials/trust-they-are-looking/
I love the spacious appeal of the whole area. The servery provides a welcoming atmosphere for students. I am very grateful for your help in designing each specific area, selecting and providing just the right variety of seating, and completing (on time) this great dining venue.

-Greg Maybury, Hope College
2015-04-24T20:19:29+00:00
I love the spacious appeal of the whole area. The servery provides a welcoming atmosphere for students. I am very grateful for your help in designing each specific area, selecting and providing just the right variety of seating, and completing (on time) this great dining venue. -Greg Maybury, Hope College
https://bakergroup.com/testimonials/greg-maybury-hope-college/
Mona's expertise in college dining was a strong driver in choosing Bakergroup, and working with her and her team was a great experience. Mona not only asks great questions, but her experience in this industry allows her to view our operations with an expert's eye.

-Byron Drake, University of Montana
2014-11-28T20:12:43+00:00
Mona's expertise in college dining was a strong driver in choosing Bakergroup, and working with her and her team was a great experience. Mona not only asks great questions, but her experience in this industry allows her to view our operations with an expert's eye. -Byron Drake, University of Montana
https://bakergroup.com/testimonials/great-company-to-work-with/
Bakergroup helped us navigate challenges and achieve our project goals. Mona and Jim were excellent to work with, listening carefully to our input and building on that to help us reach optimal solutions.

-Randy Lait, North Carolina State University
2015-01-28T22:43:35+00:00
Bakergroup helped us navigate challenges and achieve our project goals. Mona and Jim were excellent to work with, listening carefully to our input and building on that to help us reach optimal solutions. -Randy Lait, North Carolina State University
https://bakergroup.com/testimonials/randy-lait-north-carolina-state-university/
Bakergroup's knowledge and insight of dining trends have allowed Michigan State to create both large and small dining spaces that are modern, comfortable and unique. The Bakergroup team understands the intricacies of foodservice, making our collaboration and the results a great success.
-Matt McKune, Michigan State University
2017-01-02T16:00:11+00:00
Bakergroup's knowledge and insight of dining trends have allowed Michigan State to create both large and small dining spaces that are modern, comfortable and unique. The Bakergroup team understands the intricacies of foodservice, making our collaboration and the results a great success. -Matt McKune, Michigan State University
https://bakergroup.com/testimonials/matt-mckune-quote/
I have worked with Mona on 3 major UM Dining projects: our Strategic Plan, our Marketing Plan, and, just recently, our Facilities Master Plan. In each case, the quality of the finished projects were exceptional. Mona gets positive results!

-Mark LoParco, University of Montana
2015-01-28T22:42:39+00:00
I have worked with Mona on 3 major UM Dining projects: our Strategic Plan, our Marketing Plan, and, just recently, our Facilities Master Plan. In each case, the quality of the finished projects were exceptional. Mona gets positive results! -Mark LoParco, University of Montana
https://bakergroup.com/testimonials/mark-loparco-university-of-montana/